Spark! Online Modules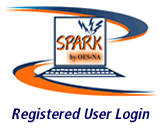 OES-NA's online modules are offered through our Spark! portal which enables system operators to experience quality online training and test-taking preparation tools right at their desks 24 hours a day 7 days a week!
Because each module is delivered on an individual basis via the Internet, individuals have the ability to set their own pace and schedule. Registered students are provided with 12 months from the time of registration to complete each module. Students can enroll in individual CBT modules or take advantage of the discounted pricing offered when enrolling in a bundled package of courses.
Our online modules offer:
Friendly navigation

Review activities throughout the module

Easy access to supporting documentation via the course resources tab

Instant feedback during quizzes
Comprehensive final assessments
Friendly, professional support
OES-NA is proud to be able to offer NERC continuing education credits for the successful completion of our online modules. For this reason, however, the following requirements must be adhered to:


Students must sign-in using their private individual log-in and password to access the module.

Students are required to provide their NERC SO Certificate # and other applicable contact information during the registration process.

Students must complete all module material individually.


Students must successfully earn a score of at least 70% on the final activity assessment.

Students must submit a course evaluation form. (Level of completion is not measured, but full completion is appreciated.)
Currently, we offer the online learning modules listed in the menu to the left. Click on a particular title for more information or the link below to view our course catalog.
Spark! by OES-NA Course Catalog

Custom Online Course Bundle Registration Form